Season 4 at 360º
Posted on
11th of September, 2012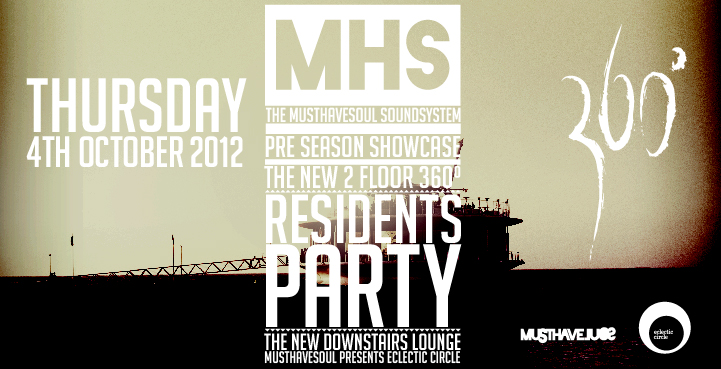 Yes yes! We're now getting extremely excited about our 4th season at 360º!
MustHaveSoul returns with its latest concept for it's Bi-weekly Thursday party at the new 2 floor 360º. Events will take place on 1st/3rd & any 5th Thursday of the month. Now known as The MustHaveSoul Soundsystem. Upstairs (or Above as it will be known) will play host to MustHaveSoul – playing the very best in deep soulful house music, continuing where it left off last season, bringing the very best in house music talent from around the world. Downstairs (Below). The new lounge area will be hosted by our Eclectic Circle concept playing anything from Funk, Soul, Boogie to Disco and Edits. Downstairs will also play host to the international guest from 2am-3am (extended hours only apply to downstairs) where the guest will be given the full scope to play anything he or she wants. Think of it as a little after party!
MustHaveSoul is also proud to announce a new line up of residents, some old faces will be joined by some fresh talent each event for it's 4th season at 360º – RESIDENT DJ'S: SIMON REID, DAN CHADWICK, JONNY THORNHILL, TOM CHUBB, SAFET, DANNY KWANG & CORY CENTRIC.